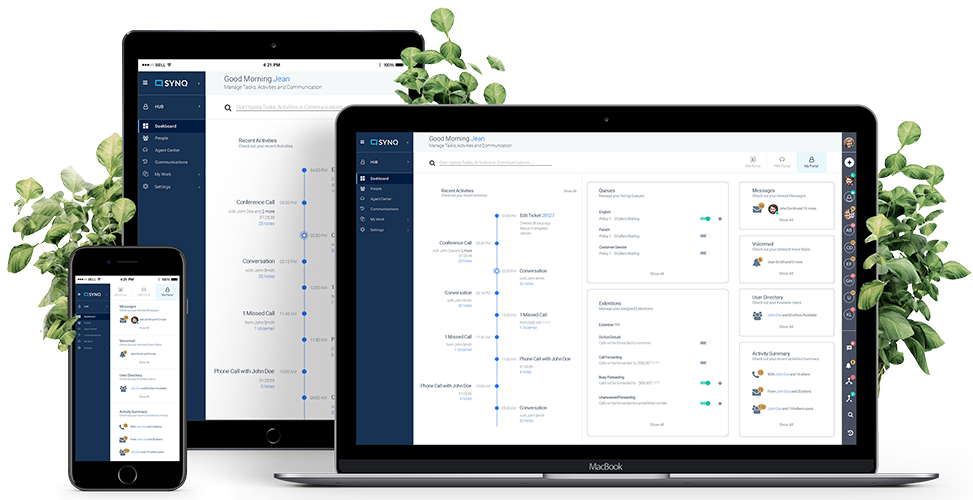 SYNQ's Unified Communications Platform lets you manage all your communication activities and workflows in one convenient place.
FREDERICTON, N.B. (PRWEB) JUNE 11, 2018
Indosoft is pleased to announce the upcoming release of SYNQ 1.0., a Unified Communications Platform. Whether inbound or outbound, by Voice, SMS, Email, Web Chat, Video, or Social Media, SYNQ's Omni-Channel capabilities let you connect with your customers using their preferred channel of communication.
With our broad set of APIs, you can extend SYNQ to build new products and tools, or integrate with your existing services and applications. Companies and third-party developers can choose to integrate with SYNQ on the front end, or Q-Suite NG on the back end.
SYNQ was designed from the ground up by Indosoft's experienced developers based on existing customer feedback. Major features include:
Visual Dialplan Builder. Simple yet powerful tool to build any call flow to suit your needs. Its point-and-click feature lets you quickly get the right information to the right agents at the right time.
Activity Bar. Always available, so you can manage all of your communication activities in one convenient place within SYNQ applications.
Omni-Channel Work Queues. Dramatically reduce customer wait times, and create an easy connection between your target audience and agents.
Multiple Deployment Types. From single server instances on physical hardware, to multi-server instances running within the Cloud.
Script Engine. From simple to the most complex scripts, this easy-to-use tool allows you to build the scripts you need to use during customer engagements, to share and capture information and ultimately complete sales.
Skills-Based Routing. Incoming calls are routed to agents with the appropriate skill sets so that customer needs are addressed promptly and efficiently.
Multi-Tenant. Includes an easy-to-manage, multi-tenant application, so whether you're a business or service provider, a single instance of SYNQ is all you need to focus on your customers.
Live and Historical Reporting. Track data for every activity, customer, user, or campaign, and turn it into well-designed reports that help you analyze and forecast your business revenue.
"The contact center has evolved quite a bit since we developed our first product," said Gabriel Bourque, CEO of Indosoft, Inc. "Instead of modifying our existing products, we built from the ground up. SYNQ was designed to meet the need for Omni-Channel communications throughout the enterprise."
SYNQ 1.0 will be available for sale in Q3, 2018.